Posted by Jess on 8th Aug 2015
Nothing has frustrated me more than sending kit after kit of colourful Sandman stripes out the door to their various destinations all across our huge country but NEVER seeing these elusive panel vans on the road! Surely they didn't spend there entire existences locked behind garage doors?
There was only one thing for it, pack up the Avalanche Ute and road trip to Bathurst for the Easter weekend 40th Australian Van Nationals. Finally I'd see all the vans in their glory and from what people were estimating, in their hundreds.
As we drove into Bathurst everything carried on as usual but as we entered the Showground gates the world was transformed into a rainbow of various vans of all different makes and models.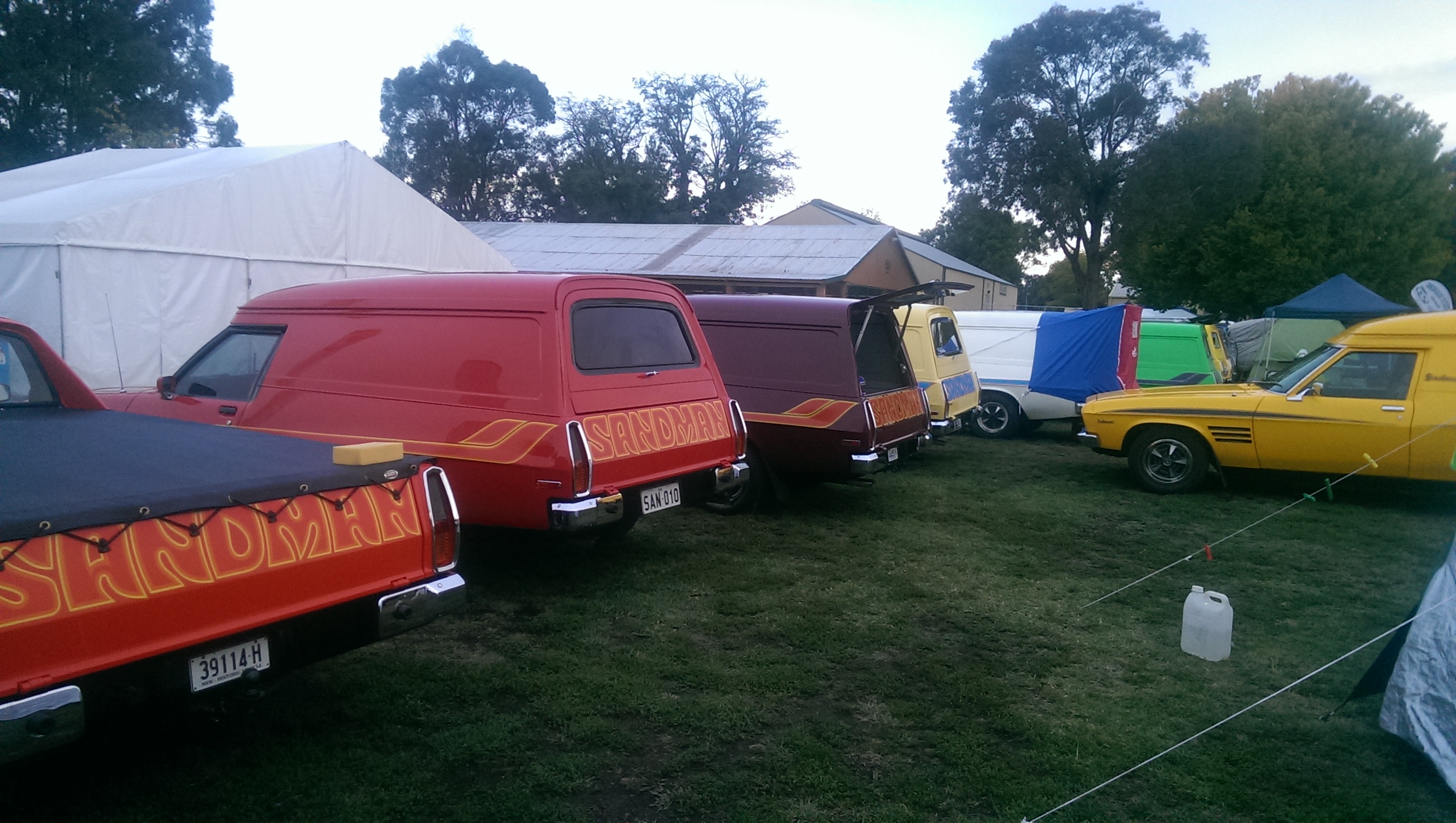 We signed in and headed to the Mysandman camping area and settled in and caught up with old friends and made new ones. I quickly found these van enthusiasts were really like one big family. Chilled out, fun and down to earth people.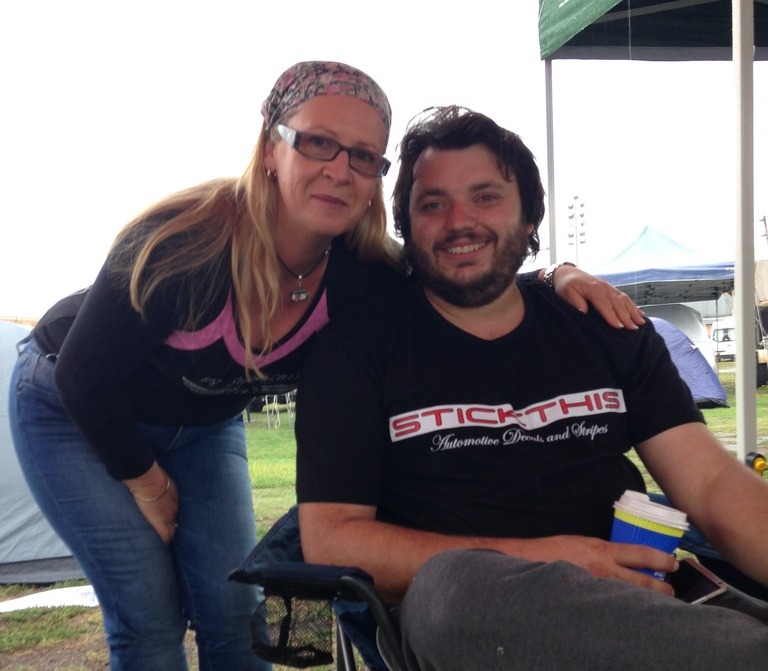 It was pouring down in Bathurst so any vans out had more than their fair share of clean rainwater rinses! Most of the vanners were camping at the showgrounds braving the average weather, others staying in local motels. The atmosphere at the showgrounds however couldn't be dampened by the rain! We put all kids to bed and all stayed up until the early hours of the morning.
Waking up Friday morning to all these Sandman's decked out with our stripes on them was pretty damn cool!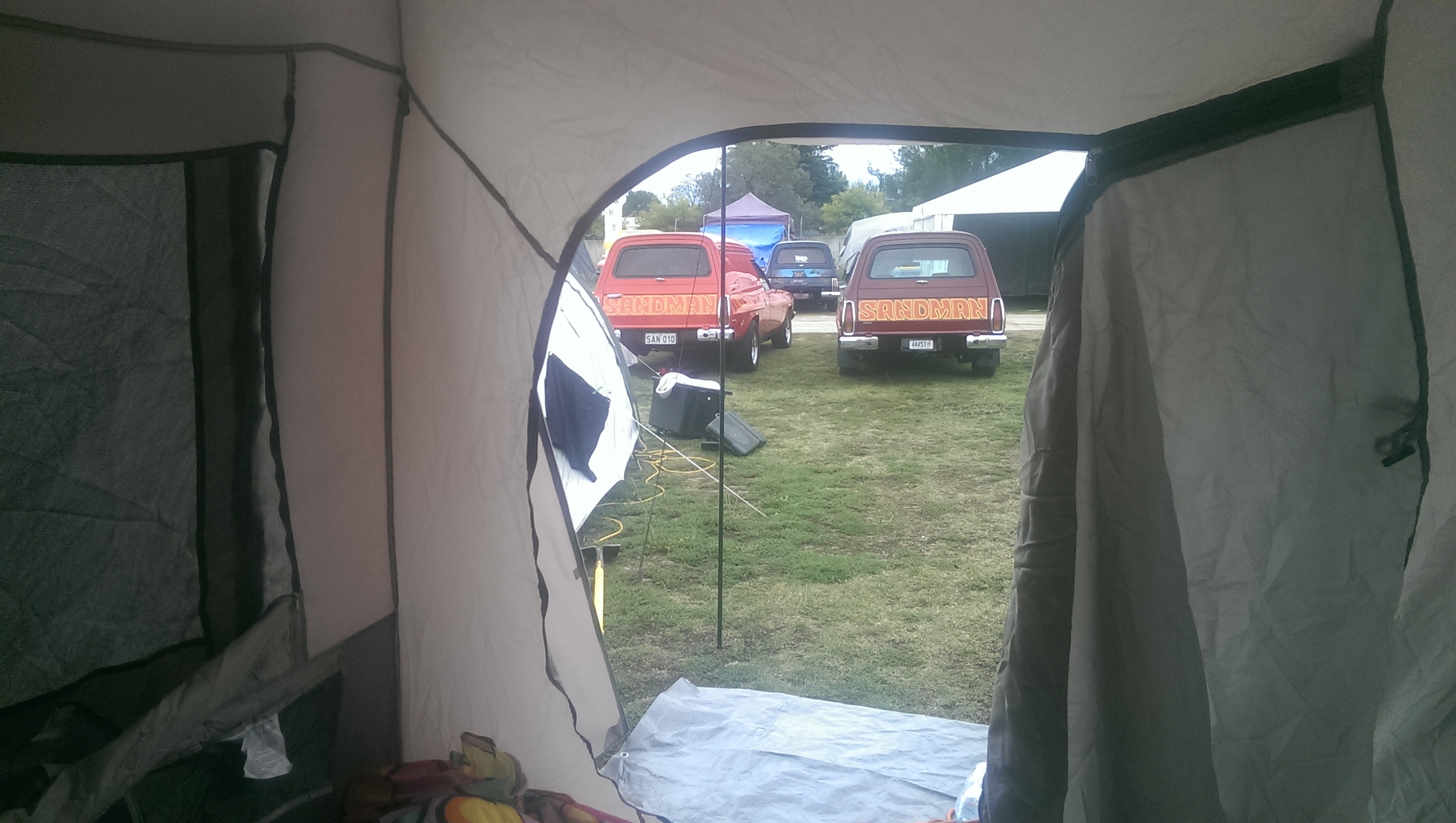 Nothing was scheduled in the program for Friday so we the day catching up, relaxing around the camp fire with drinks or checking out the various vans and finishing the final touches in our decal display albums.
Saturday the vanners were going to do a lap of Mount Panorama between the racing. Jase was given the keys to a friends, Jen and Rod's Sandman to drive the mountain. We kept this from 9 year old Dyl as a surprise, and he was over the moon to be able to do the mountain with Dad in a Sandman!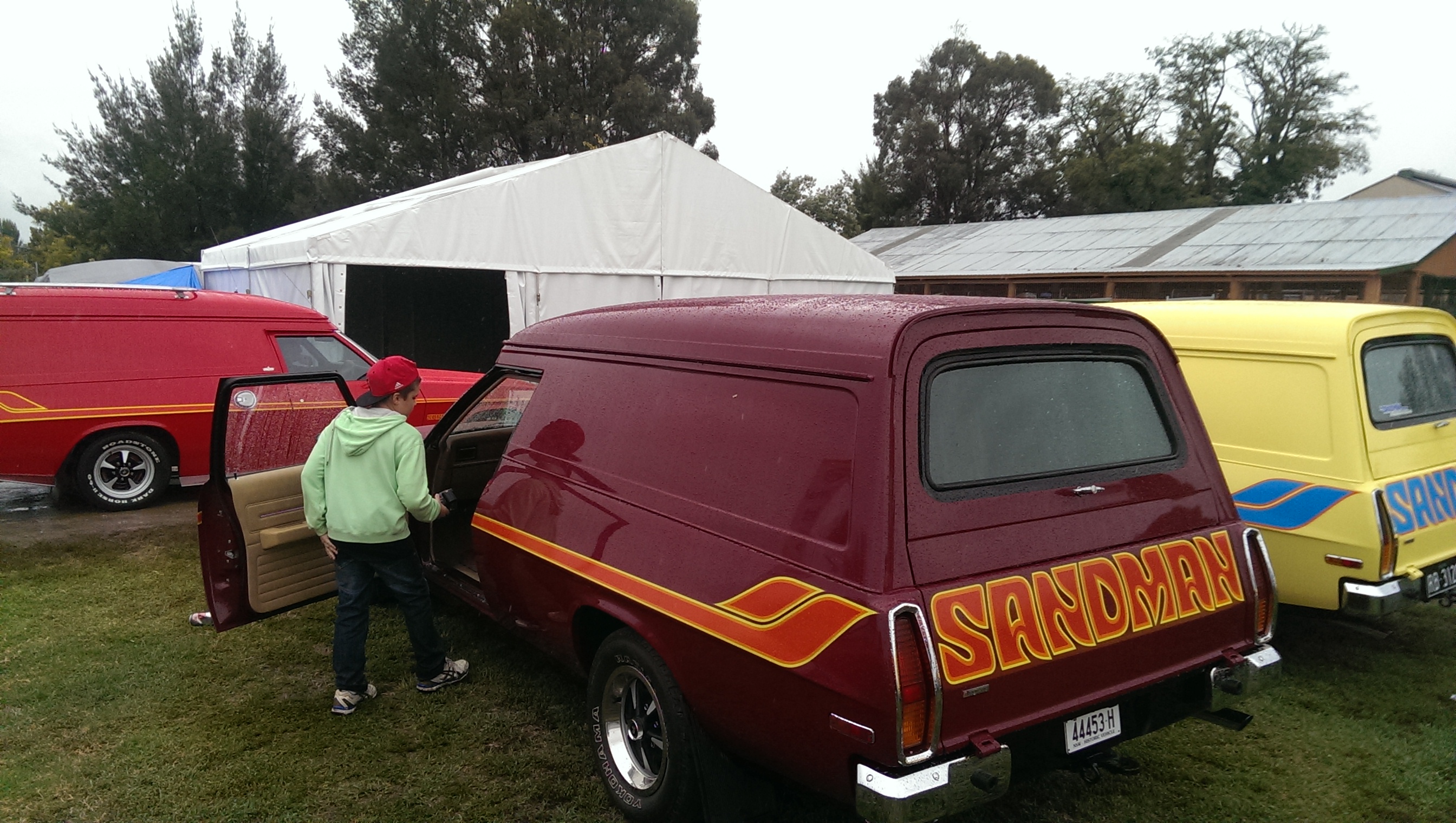 The vans, all lined up at Panorama were a sight to see. Almost like a 70's drive in theatre but much bigger!!! There was about 200 vans all up to lap the mountain.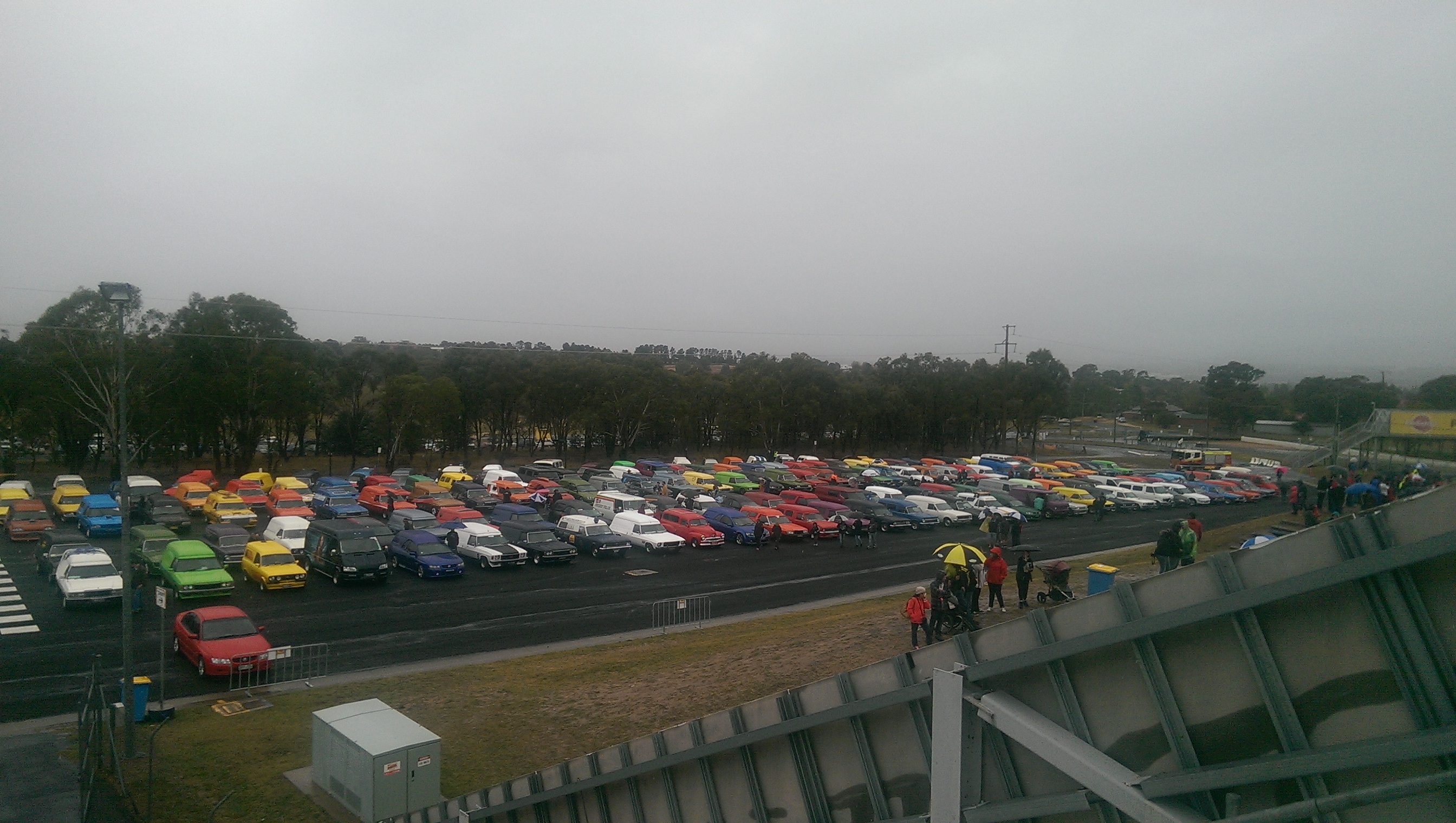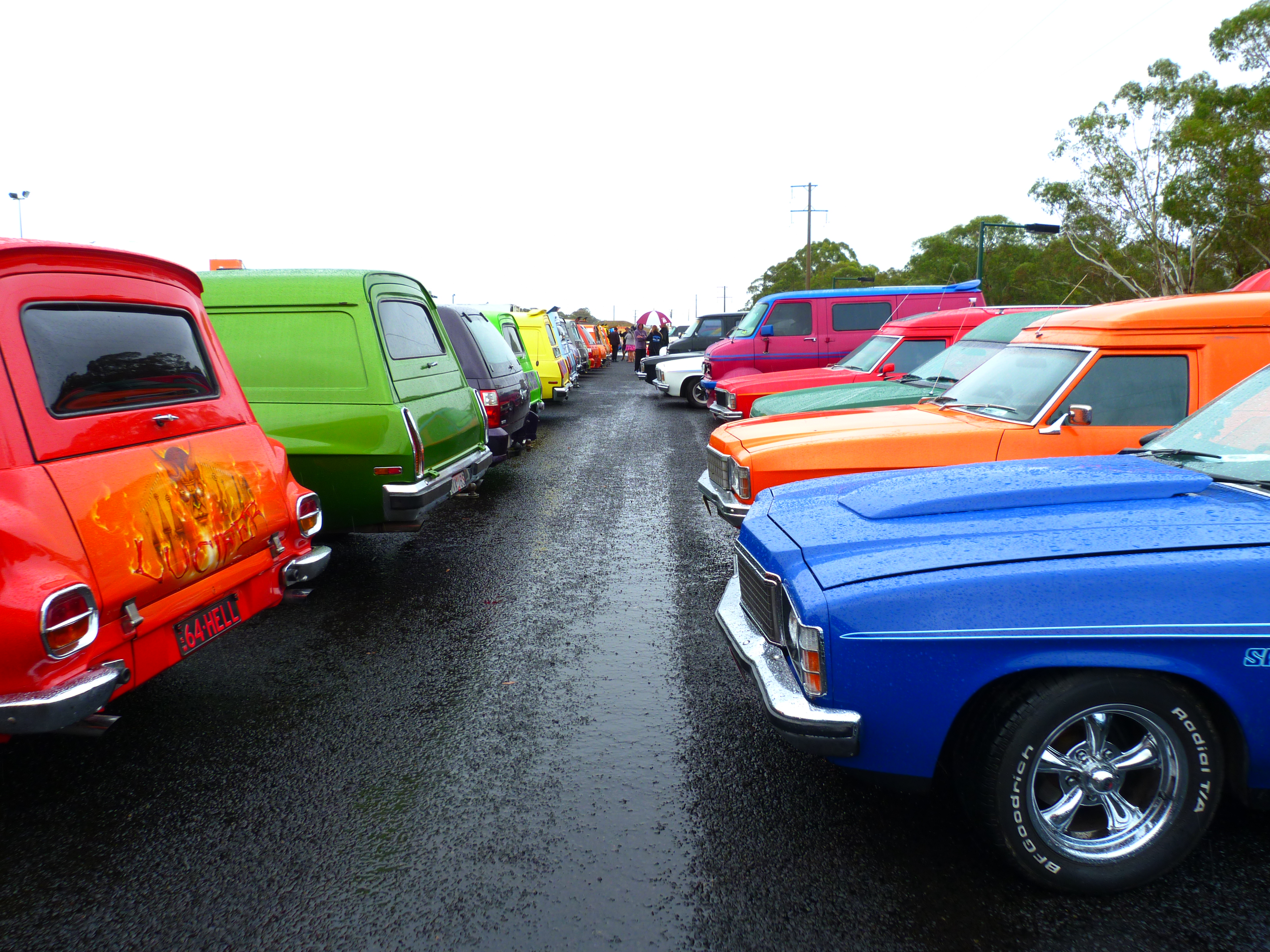 I rode in another friend, Damo's van, a very cool van with side pipes to boot! Unfortunately we weren't allowed to go over 50kmph which made everyone sad but it was still an incredible experience and spectacular site. bittersweet too, like this great progression was a colourful salute to a bygone era.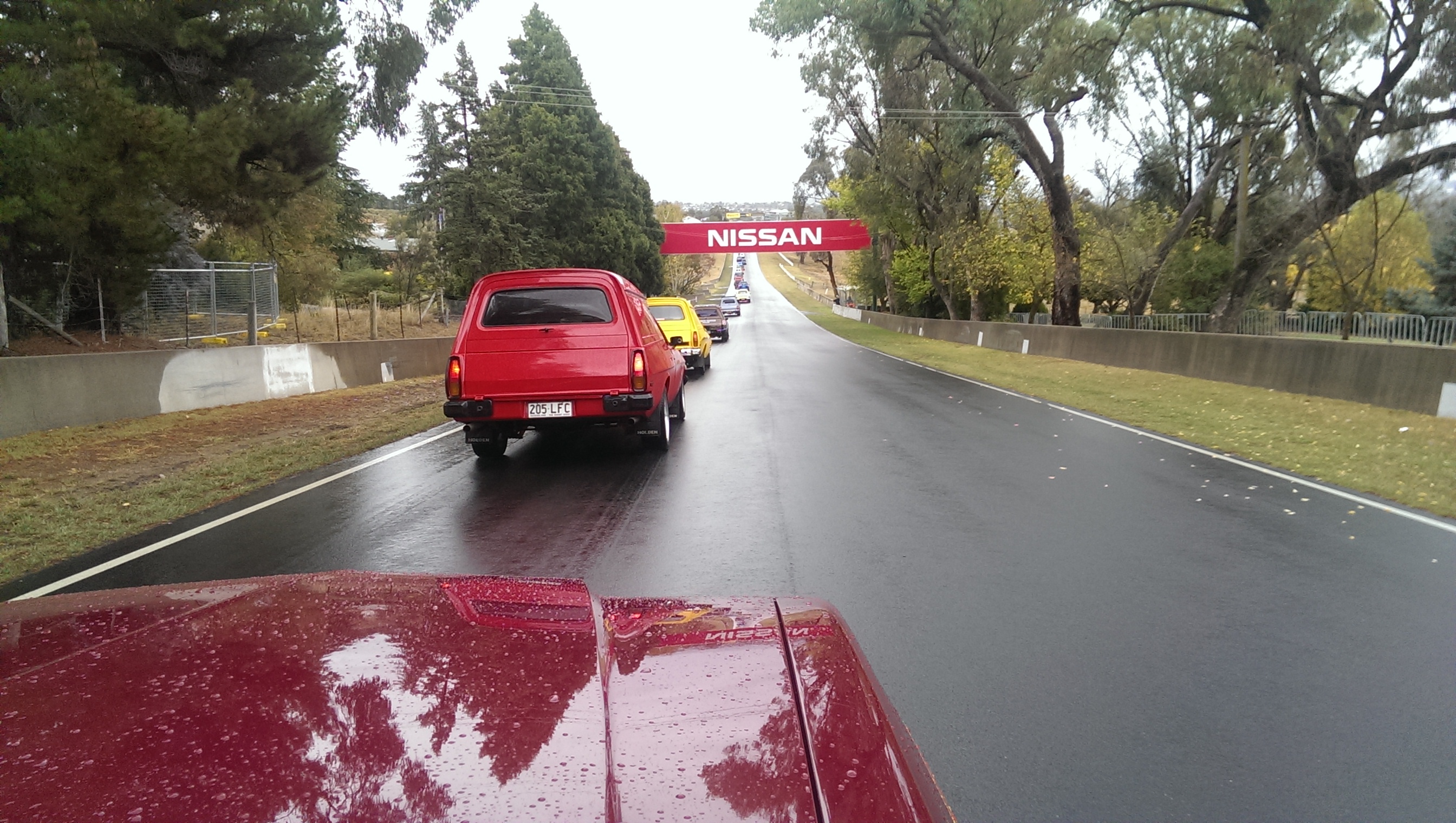 Heading back to camp in the ute that bygone era had come back to life throughout Bathurst, vans dotted along the roads, parked out the front of shops, at motels, the bottle'o and on pub corners.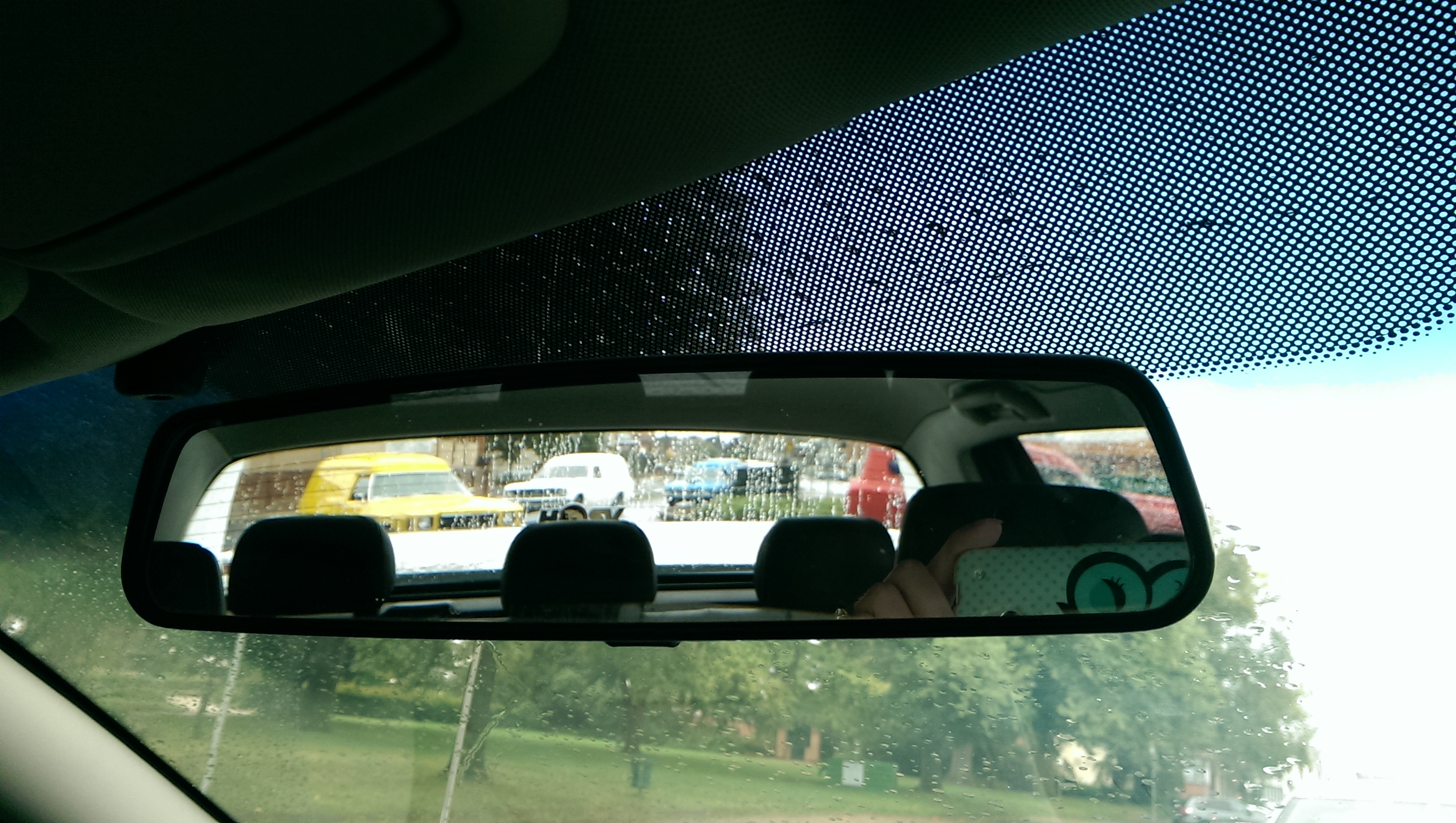 After the Mountain, a group of us cruised out to a local vanner couples farm house which they have put a lot of work into doing up but keeping the old world rustic charm and a drool worthy shed!
We headed back to camp for the van lights display and fancy dress and bands.
The light display was insane, ingenious what some people had done to their interiors and some even borderline spooky.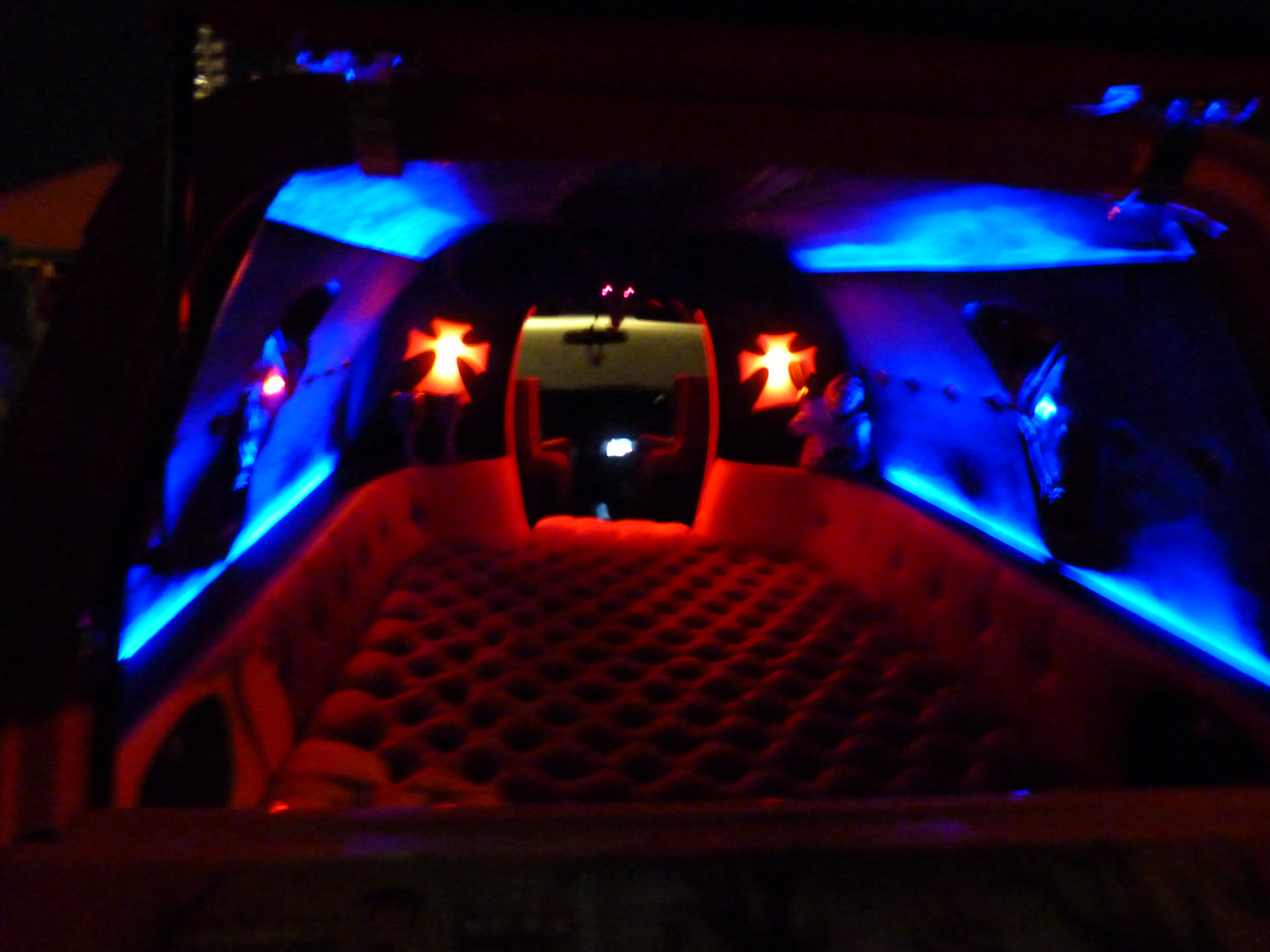 Sunday dawned rainless and slightly sunny! While Jase set up our display I cleaned up the van he had driven the previous day for Jen and Rod as thanks. Secretly I got the better end of the deal, got out of setting up!!!!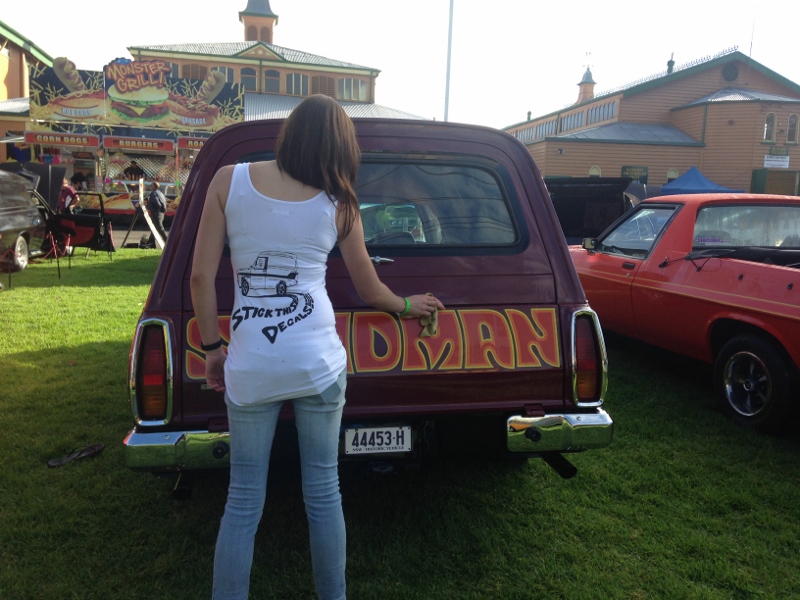 All the vans looked great. between manning the display, we walked around looking in awe at some of the work and endless hours people had put into their vans.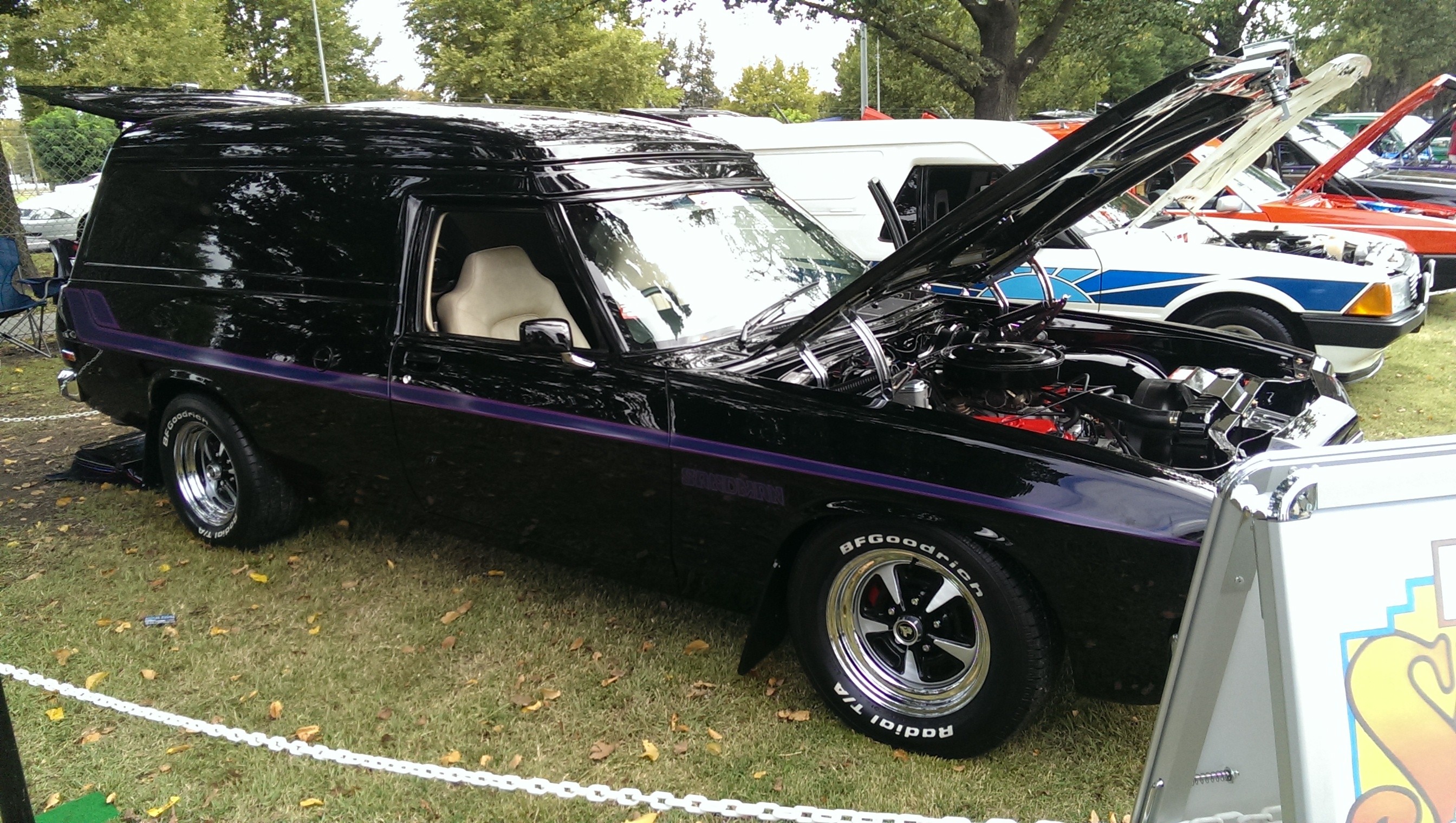 The undercover display had some immaculately presented show vans including the infamous "Jade" , "Red Baron" and "MYTYME". All the mural vans were incredible and usually the airbrushed artwork had a story behind it.
In the arvo Dyl raced one of his matchbox vans in the hot wheels race with other kids after dragging me around trying to find a matchbox sized Sandman! We couldn't find one but decided to go one better and do up an RC van for the next nationals.
We gave out over 200 business cards on the day of the show along with the opportunity to show off our huge collection of decals we offer. It was a full on day even including a bit of colour matching and measuring up for a Dealership decal for a customer but it wasn't over, the awards and auction was still to come that evening!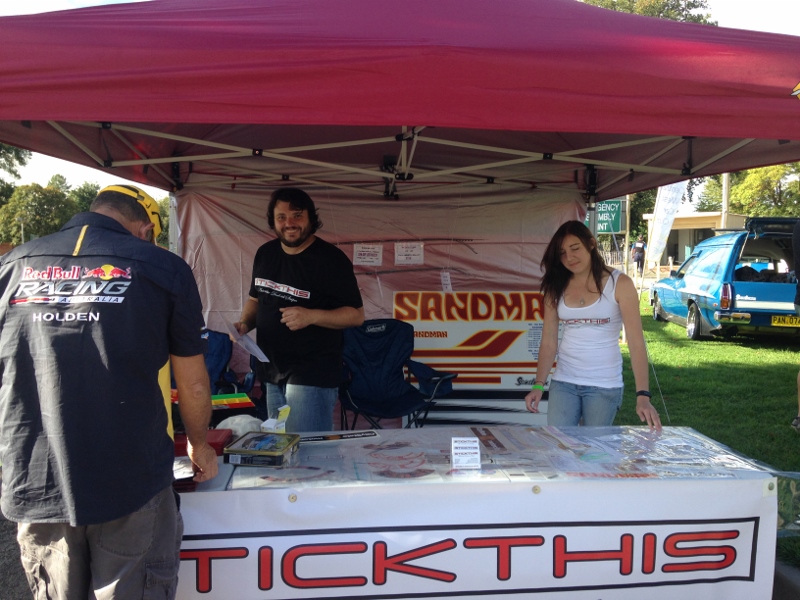 By the time the auction began, every one of us was in a cheery mood and more than a few of us had had a few drinks and our camp group decided the front row would be an excellent place to sit possibly much to the poor unsuspecting auctioneers dismay! Street Machine even caught our rowdy front row antics on camera!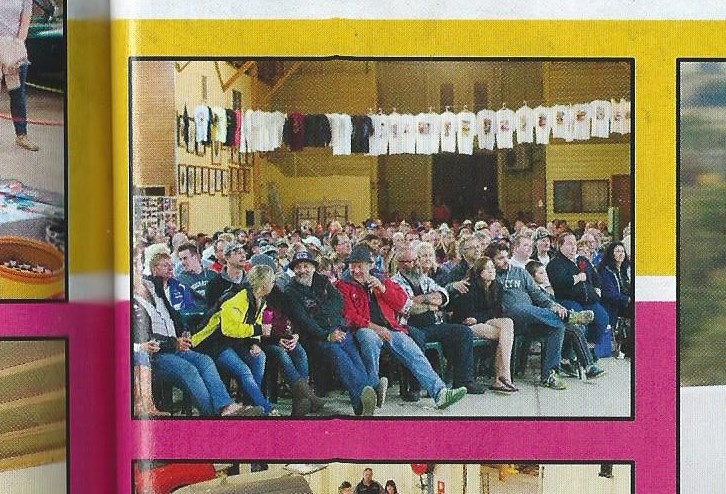 The Van Nats auction was hands down the best charity type auction I have ever been to! Hilarious! They then moved onto awards and we all cheered extremely loudly as any friends vans Won awards! We were pretty happy to have Dean's HZ Sandman win a couple awards as we had jumped through hoops to get his stripes to him in time for the Nationals and the effort he'd put into his van well deserved those awards.
Finally they announced the best Sandman and I squealed so loudly that everyone in the room looked at me. I had to back track and say it wasn't my van but we supplied the stripes! It was one of our customer's vans, a lovely lady I'd been dealing with again earlier in the day! We were proud as punch our stripes were on her van but hey, that's why we do them to original, so people can win awards with their vans. It was the perfect way to wrap up an incredible weekend.
Monday we packed up camp, said goodbye to everyone and hit the road. On the way home, I commandeered the Avalanche ute and did my own lap of Mt Panorama and then we headed back to South Australia.
For all the 40th Van National highlights and info on the 2016 Van Nationals,
check out: http://www.bathurstvannationals.com/